The 1971 Olympia Hotel shooting was an attempt to kill many famous Lovian celebrities.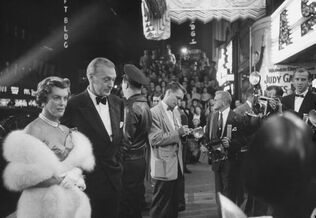 The 1971 premiere of the film Intrepid was the largest gathering ever of Lovian celebrities, actors and rich people. Among those present included actors Nicholas Sharpe and Scott Tremoyne, actress Florentine Fortesque, singers Sofia Lilland and Joe Lecoeur. But the most important person there was King Arthur III. Security had been greatly heightened for the event.
A hitman (William Caine) had been hired by unknown persons to kill the king and the many celebrities there. But, he didn't count on how well the king's security would be at protecting the place. Halfway through the film, the king began feeling sick and his guards escorted him away. With many of the guards gone, the hitman was able to enter the hotel's theater. He shot 6 people and killed 1 person (Sharpe) before being brought down by 2 guards. He managed to escape and killed himself before he could be re-captured. Police searched his apartment and had found that he burned most of the contents, leaving no trace of the person who hired him. Presently, the case is still unsolved.
See also
Edit
Ad blocker interference detected!
Wikia is a free-to-use site that makes money from advertising. We have a modified experience for viewers using ad blockers

Wikia is not accessible if you've made further modifications. Remove the custom ad blocker rule(s) and the page will load as expected.