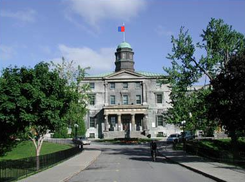 12 Democracy Avenue is the official cabinet office of the Prime Minister of Lovia and their government. It is located on Democracy Avenue, in Downtown Noble City.
12 Democracy Avenue was built in 1886 as the home of a rich Noble City banker. In 1895, the city bought the house to use as the town hall. Adams and Fletcher architects added a tower, expanded the building and redesigned the interior. It was in use as city hall until 1917. After that, it was not used as often. In 2010, the house began use as the PM's office, briefly serving Yuri Medvedev and has been used by all his successors to date.
Function
Edit
12 Democracy Avenue was originally the city hall, but now serves as the office of the Prime Minister. Most of the government meetings are held here, and foreign dignitaries and politicians are often hosted here.
This article is a stub: a short article with a useful amount of information, but that should definitely be expanded.
You can help Wikination by expanding it.
Ad blocker interference detected!
Wikia is a free-to-use site that makes money from advertising. We have a modified experience for viewers using ad blockers

Wikia is not accessible if you've made further modifications. Remove the custom ad blocker rule(s) and the page will load as expected.